Activision wrote:
Skylanders SuperChargers brings a new style of gameplay to the Skylanders universe
with the introduction of land, sea, and sky vehicles and vehicles-to-life toys.
The Skylanders SuperChargers Starter Pack for Apple TV, iPad, iPhone, and iPod touch
will include everything fans with those devices need to play, including a Bluetooth-enabled portal,
an embedded Bluetooth controller, and even a built-in stand. What's more, if you have multiple Apple devices,
your progress can be seamlessly synced across Apple TV, iPad, iPhone, and iPod touch with cloud save support under the same Game Center account.

And if you already own a Bluetooth portal and controller from the iPad version of Skylanders Trap Team, you can use the same devices for Skylanders SuperChargers.
All you need to do is download the game and you are good to go.
You can also play Skylanders on your favorite consoles as well, including Xbox One, Xbox 360, PlayStation 4 system,
PlayStation 3 system and Nintendo's Wii U system as well as Wii and Nintendo 3DS.

So basically what they are saying is the hardware that comes with Skylanders Trap-Team will work with Skylanders Superchargers.
Here is a money saving offer:
Currently
Skylanders Trap-Team Starter Pack Hardware
for iOS is on SALE on Amazon for
$17.99
So when
Skylanders SuperChargers iOS Hardware
is released (October 25th) it will be
$74.96
Heres are screen grab from Amazon (below)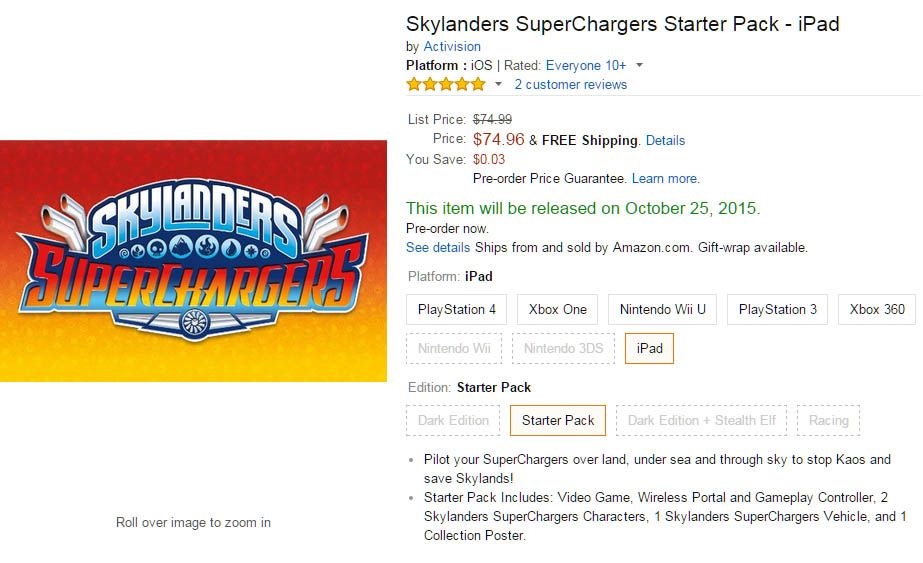 .
So to get up & running more cheaply it makes sense to purchase
Tap-Team Hardware
for the reduced price saving you $57! & then the extra SuperCharger Figures separately as required.
SuperChargers Starter Pack iOS comes with 2 Characters + 1 Vehicle, so lets add up the cost of purchasing these separately.
2 x Supercharger Figures = $25.92
1 x Supercharger Vehicle = $14.99
Total = $40.91
Now add on the Trap-Team Starter pack for $17.99
So to re-create the
SuperChargers Starter Pack
it will cost a total of
$58.90
As opposed to $74.99 saving you
$16
, plus you get an extra 2 Skylanders figures that come with the TrapTeam Pack.
This way also gives you the flexibility to choose which vehicle and Supercharger figures you want, instead of what is bundled with the Superchargers StarterPack.
.
Check out the
Skylanders Store
for options!