HomeKit is a framework that makes your AppleTV the "Control Hub" of your home and links via bluetooth or WiFi
to your Homekit enabled devices within your home, things like Lights,Thermostats,Door Locks,Cameras..Ceiling Fans etc.
Basically there's lots to choose from & you will see more 3rd party manufacturers releasing products in the coming months,
so if you are thinking of purchasing one of these products look for the HomeKit symbol on the box.
This symbol means your New Apple AppleTV & iPhones/iPads etc can be used to control any of the "Works with Apple HomeKit" accessories you have within your home.
Here are such products already available today :
AppleTV HomeKit Products
(NOTE: We shall be opening up another forum thread dedicated to HomeKit Product & Appliance reviews very soon.)

(NOTE: You do not need an AppleTV to operate Homekit products they can be operated using iPhones/iPads etc., having an AppleTV gives you "Remote Access" when you away from home)
When i first got into this, i was confused as to how it all works, here is a simple diagram to explain this.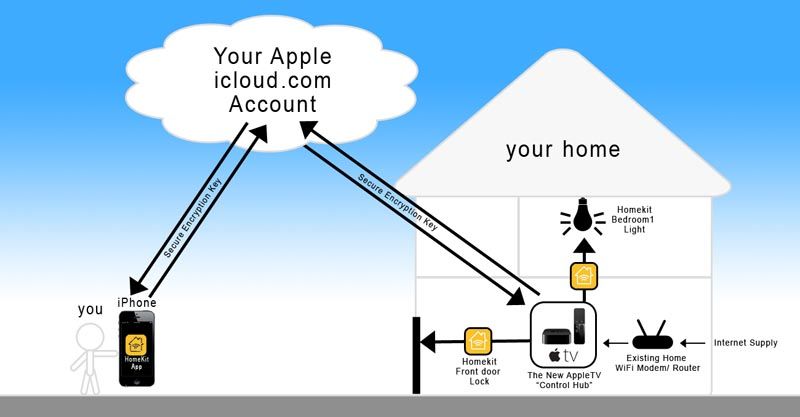 So in the example above you can see the person can remotely open the front door or switch on/off the upstairs bedroom light.
Being able to control the access to your home via the front door lock is a useful.
Example scenario: maybe a friend or relative comes to visit you whilst you are out, after ringing your doorbell with no response,they call you with their cellphone, "Hey where are you? I am at your home."
Now you can simply swipe to the Homekit app whilst talking to them on your iPhone and unlock your front door allowing them access into your home.
So your thinking, well what if someone steals my iPhone are they able to access my home by unlocking the door, well the answer is No, most HomeKit locks require a fingerprint authorization before they can be used, you know exactly the same process as unlocking your iPhone with your fingerprint,same goes for the Lock, so please make sure the manufacturer offers this level of security in their companion App before you purchase their product.
Compatibility with other brands of "Remote Home" accessories
If your home already has a a setup for controlling lights/thermostats remotely from your smartphone on other systems instead of HomeKit,
then Apple account for this in the form a
"Bridge"
a bridge is a piece of hardware that connects to AppleTV via Homekit
but then allows other "None" Homekit devices to be used in your HomeKit Network, basically "bridging" the previous communication barrier.
Products from other systems such a "Nest" / "Honeywell" or products that use other forms of wireless communication like "Zigbee",require a
"Bridge"
if they do not already support the "HomeKit" protocol, check manufacturers details 1st to be sure.
>>Continue reading on the equipment you need & how to set it up.